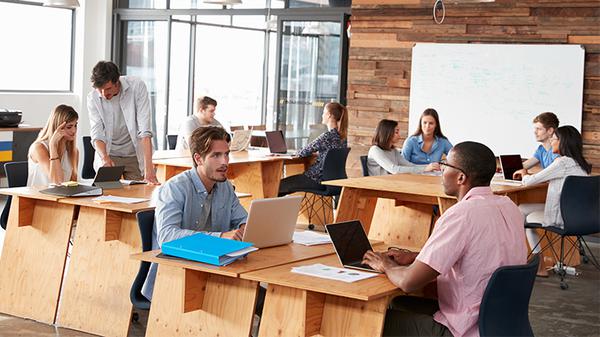 With the rise of the mobile and remote workforce, more and more organizations are changing from the outdated cubicle office architecture to the modern coworking space option. Coworking spaces such as WeWork and Green Space offer many different advantages for organizations, from lower office costs, flexibility in working, networking opportunities, happy hours and more. However, along with the advantages there are always some security risks.
Working out of a coworking space might save your organization money and overhead, but it's important to consider the security implications it presents to your organization's resources. In the case of the lead coworking space WeWork, massive security risks have grabbed the headlines over the past month.
Security issues with WeWork's Wi-Fi network were first introduced in August 2019 in a Fast Company report, which noted that the company "used the same weak passwords and outdated Wi-Fi system throughout all its branches". WeWork's lack of password security has gotten to the point that it has regularly been featured on the list of the worst passwords that anyone can possibly use. The report described that WeWork's Wi-Fi weak security is "laughably weak" and "downright dangerous."
CNET reported that a WeWork tenant named Teemu Airamo who joined the New York shared workspace in 2015 scanned the facility's Wi-Fi security upon arrival to ensure his organization would not be vulnerable to an attack. Airamo noticed that other companies located at the WeWork were visible on the network and were spilling out an "astronomical amount" of data.
Continue reading at
perimeters81.com>>
HOW TO PARTICIPATE
We need your help deciding if this article is biased, fake, or gold! Here's some things you can do:
Finish reading the article at the original source above
Vote on the article in the ratings box (requires login)
Go to the comments section below and discuss the truth of this article with others
Connect this story with others by submitting more articles to the section or storylines shown below
Share this story on your social media to get more accurate and unbiased results about its truth and bias.
Thanks! You're the best!
1700 articles submitted, 0 comments, 1880 user score with a lean of Center and a credibility of Good