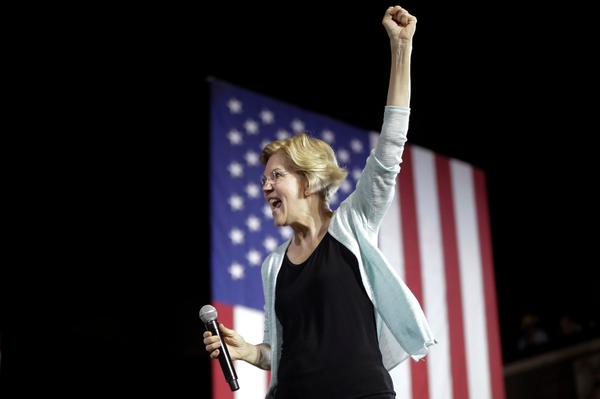 Not too many campaign websites first ask visitors if they are unsure about the candidate in question. But if you click the "I'm not sure yet" button on the ElizabethWarren.com launch page, you can enter your email before answering the question "What's holding you back?" one of three ways. Two replies are typical for 160-some days before the Iowa caucuses: "I'm not ready to make a decision" and "I have questions about Elizabeth's policy positions."
A few thousand people who disagreed with that sentiment piled into the Shrine Expo Hall on the University of Southern California's campus early Wednesday evening. A good hour before Warren's town hall began with a raffle to determine who would get to ask her questions later that night, the faint odor of spilt, fermented beer wafted through the lower level, stage left — likely some resilient residue from an earlier event. The smell itself didn't fit the early-evening, family vibe of the Massachusetts Senator's supporters, and frankly, they hadn't been there long enough for it to smell like a post-victory celebration locker room. But the spirit it conveyed was a perfect match: Most everyone there to see Elizabeth Warren was as giddy as if the title were in sight.
There was, however, that damned specter of "electability" also was wafting through the room. It was much less odorous but no less repugnant. This phantom is conjured in virtually all discussions about the Democratic primary contest, derived largely from archetypes of older white men whom Americans are more accustomed to seeing run for office and therefore electing. It smothers critical thinking about the presidential race so much that it appears that many are convinced that "electability" is indeed a living, breathing thing when it is in fact an apparition, a hasty creation of the party elites and pundit classes that serves as a convenient substitute for the vetting that desperately needs to occur before a nominee goes up against President Trump next fall. Even though more than 160 days remain between n
Continue reading at
rollingstone.com>>
HOW TO PARTICIPATE
We need your help deciding if this article is biased, fake, or gold! Here's some things you can do:
Finish reading the article at the original source above
Vote on the article in the ratings box (requires login)
Go to the comments section below and discuss the truth of this article with others
Connect this story with others by submitting more articles to the section or storylines shown below
Share this story on your social media to get more accurate and unbiased results about its truth and bias.
Thanks! You're the best!
1700 articles submitted, 0 comments, 1880 user score with a lean of Center and a credibility of Good