US Politics - esquire.com
Nancy Pelosi Can't Win for Losing on Impeachment. So She's Going to Do the Damn Thing.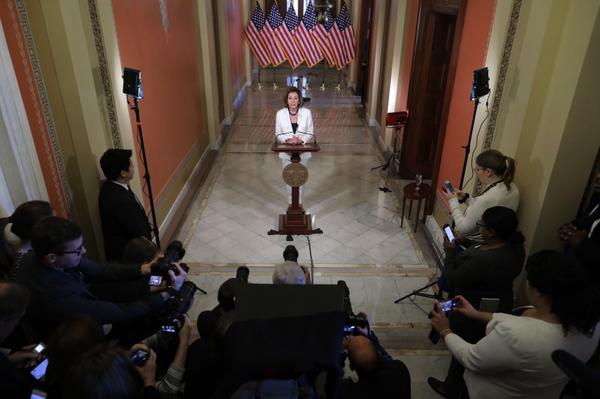 WASHINGTON—The Speaker's Balcony in the U.S. Capitol is not in any way a balcony. It is more of a hallway, just off the rotunda. But, if you line up some flags at one end and park a rostrum in the middle, you can make it look like a balcony, if a balcony is what's called for. That was the setting on Thursday, because what was happening there needed a balcony, a high place for high purposes. Speaker Nancy Pelosi called a press availability to announce via prepared statement the least surprising news of the week. In a low, precise voice, Pelosi announced that the House of Representatives would exercise what the Constitution calls its "sole power of impeachment."
Even though everybody in Washington, as well as everybody in America who'd been paying attention, knew this was coming, it was still a moment draped heavily in history. It echoed. It resonated. In this odd place in the Capitol building, the entire weight of the legislative branch suddenly lurched to life in a very confined space. Of course, in a way, Pelosi can't win for losing. There are as many people pushing her to slow the process down as there are people pushing her to speed it up. And, even with that, the people who want to pump the brakes on impeachment are divided between the people who want to slow the process so as to include many of the administration's other crimes, and the people who want to slow the process so that they'll have more time to gum it up entirely.
I don't think it's insignificant that Pelosi did not put any formal timetable on her announcement; there is reporting to the effect that she and her leadership team want to wrap up their end of things within two weeks so that everyone can go home for Christmas. But Pelosi didn't say that Thursday, so I guess, theoretically, it might not be entirely decided yet. I also am coming around to the position that the house is engulfed in flames now, and that temporizing extensively at this critical point—Rudy Giuliani is back in Ukraine right now, for god's sake—might damage a lot mo
Continue reading at
esquire.com>>
HOW TO PARTICIPATE
We need your help deciding if this article is biased, fake, or gold! Here's some things you can do:
Finish reading the article at the original source above
Vote on the article in the ratings box (requires login)
Go to the comments section below and discuss the truth of this article with others
Connect this story with others by submitting more articles to the section or storylines shown below
Share this story on your social media to get more accurate and unbiased results about its truth and bias.
Thanks! You're the best!
1700 articles submitted, 0 comments, 1880 user score with a lean of Center and a credibility of Good