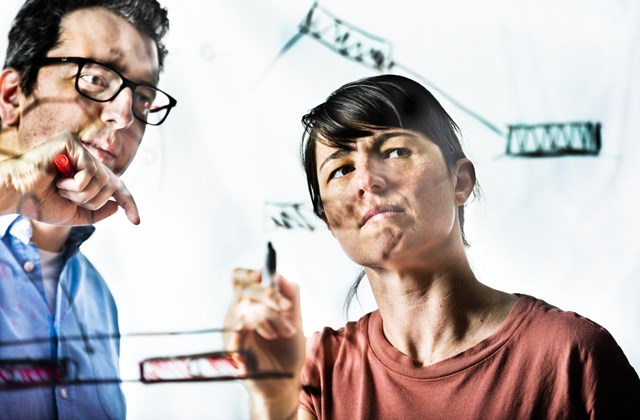 A new transistor based on organic materials has been developed by scientists at Linköping University. It has the ability to learn, and is equipped with both short-term and long-term memory. The work is a major step on the way to creating technology that mimics the human brain.

The transistor channel has not been constructed using the most common polymer used in organic electronics, PEDOT, but instead using a polymer of a newly-developed monomer, ETE-S, produced by Roger Gabrielsson, who also works at the Laboratory of Organic Electronics and is one of the authors of the article. ETE-S has several unique properties that make it perfectly suited for this application - it forms sufficiently long polymer chains, is water-soluble while the polymer form is not, and it produces polymers with an intermediate level of doping. The polymer PETE-S is produced in its doped form with an intrinsic negative charge to balance the positive charge carriers (it is p-doped).
The research has been financed by, among other sources, the Knut and Alice Wallenberg Foundation, Vinnova, the Swedish Research Council and the Swedish Foundation for Strategic Research.
An Evolvable Organic Electrochemical Transistor for Neuromorphic Applications, Jennifer Y Gerasimov, Roger Gabrielsson, Robert Forchheimer, Eleni Stavrinidou, Daniel T Simon, Magnus Berggren and Simone Fabiano, Linköping University, Advanced Science 2018. DOI 10.1002/advs.201801339
What really happens inside a blood clot as it forms? To investigate this question in detail, researchers developed a method that enables 3-dimensional images of how blood clots form. Applications of the method include studies of how anticoagulant drugs work.
Continue reading at
liu.se>>
HOW TO PARTICIPATE
We need your help deciding if this article is biased, fake, or gold! Here's some things you can do:
Finish reading the article at the original source above
Vote on the article in the ratings box (requires login)
Go to the comments section below and discuss the truth of this article with others
Connect this story with others by submitting more articles to the section or storylines shown below
Share this story on your social media to get more accurate and unbiased results about its truth and bias.
Thanks! You're the best!
1222 articles submitted, 52 comments, 3118 user score with a lean of Center and a credibility of Rock Solid