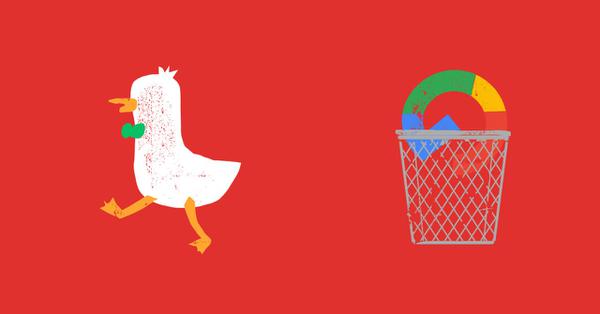 What was the last thing you searched for online? For me, it was "$120 in pounds." Before that, I wanted to know the capital of Albania (Tirana), the Twitter handle of Liberal Democrat deputy leader Ed Davey (he's @EdwardJDavey), and dates of bank holidays in the UK for 2019 (it's a late Easter next year, folks). Thrilling, I'm sure you'll agree. But something makes these searches, in internet terms, a bit unusual. Shock, horror, I didn't use Google. I used DuckDuckGo. And, after two years in the wilderness, I'm pretty sure I'm sold on a post-Google future.
It all started with a realization: Most the things I search for are easy to find. Did I really need the all-seeing, all-knowing algorithms of Google to assist me? Probably not. So I made a simple change: I opened up Firefox on my Android phone and switched Google search for DuckDuckGo. As a result, I've had a fairly tedious but important revelation: I search for really obvious stuff. Google's own data backs this up. Its annual round-up of the most searched-for terms is basically a list of names and events: World Cup, Avicii, Mac Miller, Stan Lee, Black Panther, Megan Markle. The list goes on. And I don't need to buy into Google's leviathan network of privacy-invading trackers to find out what Black Panther is and when I can go and see it at my local cinema.
While I continue to use Google at work (more out of necessity, as my employer runs on G-Suite), on my phone I'm all about DuckDuckGo. I had, based on zero evidence, convinced myself that finding things on the internet was hard and, inevitably, involved a fair amount of tracking. After two years of not being tracked and targeted, I have slowly come to realize that this is nonsense.
Continue reading at
wired.com>>
HOW TO PARTICIPATE
We need your help deciding if this article is biased, fake, or gold! Here's some things you can do:
Finish reading the article at the original source above
Vote on the article in the ratings box (requires login)
Go to the comments section below and discuss the truth of this article with others
Connect this story with others by submitting more articles to the section or storylines shown below
Share this story on your social media to get more accurate and unbiased results about its truth and bias.
Thanks! You're the best!
1451 articles submitted, 0 comments, 1596 user score with a lean of Center and a credibility of Good