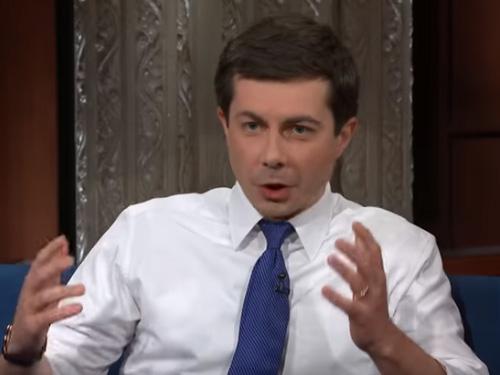 In an interview released Wednesday with the Axios "Pro Rata" podcast, 2020 Democratic presidential candidate Pete Buttigieg warned against the "monopoly power" of big tech companies like Google, Apple, and Amazon.
"There's no question that the U.S. has let down its guard when it comes to monopoly power. Too often, the concentration of wealth has become a concentration of power," Buttigieg said. "When competition is being squelched, when the dominance of one part of the marketplace is being turned into another. It requires greater attention to the controls on monopoly power to keep our economy competitive and democratic."
"If you look at the investments being made [in China] in the billions and you look at what was offered up as an early entry of an AI strategy that came out of the administration recently, it assigns nothing close to those resources. This is not a game where we can afford to be left behind," Buttigieg said. "There will always be some form of important and basic research that is not going to happen with the private sector and corporate world alone, it requires a national strategy."
"It's about making sure people are resilient. [AI and automation] is going to leave us with the parts that have the most to do with critical thinking and human interaction. Building up those skills, not just for people in universities, but for everybody -- that's going to be the name of the game if we want to equip people to be resilient and succeed as technical changes come along that we can't adequately predict. We have to make people resilient," he continued.
"The U.S. is behind and not being served well in some of these spectacles where you see legislators attempting for political reasons to show that they can hold tech executives accountable, but in these hearings making it abundantly clear that they barely understand the thing that they're supposed to be regulating."
"If you look at the investments being made [in China] in the billions and you look at what was offered up as an early entry of an
Continue reading at
realclearpolitics.com>>
HOW TO PARTICIPATE
We need your help deciding if this article is biased, fake, or gold! Here's some things you can do:
Finish reading the article at the original source above
Vote on the article in the ratings box (requires login)
Go to the comments section below and discuss the truth of this article with others
Connect this story with others by submitting more articles to the section or storylines shown below
Share this story on your social media to get more accurate and unbiased results about its truth and bias.
Thanks! You're the best!
1220 articles submitted, 52 comments, 3116 user score with a lean of Center and a credibility of Rock Solid