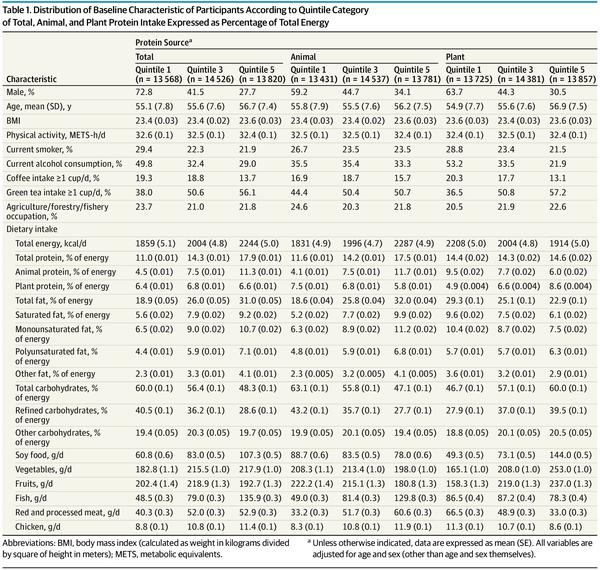 Findings 
In this cohort study of 70 696 Japanese adults followed up for a mean of 18 years, higher intake of plant protein was associated with lower total mortality. Moreover, substitution of plant protein for animal protein, mainly for red or processed meat protein, was associated with lower risk of total, cancer-related, and cardiovascular disease–related mortality.
Design, Setting, and Participants 
This prospective cohort study included 70 696 participants in the Japan Public Health Center–based Prospective Cohort who were aged 45 to 74 years and had no history of cancer, cerebrovascular disease, or ischemic heart disease at study baseline. Data were collected from January 1, 1995, through December 31, 1999, with follow-up completed December 31, 2016, during which 12 381 total deaths were documented. Dietary intake information was collected through a validated food frequency questionnaire and used to estimate protein intake in all participants. Participants were grouped into quintile categories based on their protein intake, expressed as a percentage of total energy. Data were analyzed from July 18, 2017, through April 10, 2019.
Results 
Among the 70 696 participants, 32 201 (45.5%) were men (mean [SD] age, 55.6 [7.6] years) and 38 495 (54.5%) were women (mean [SD] age, 55.8 [7.7] years). Intake of animal protein showed no clear association with total or cause-specific mortality. In contrast, intake of plant protein was associated with lower total mortality, with multivariable-adjusted HRs of 0.89 (95% CI, 0.83-0.95) for quintile 2; 0.88 (95% CI, 0.82-0.95) for quintile 3; 0.84 (95% CI, 0.77-0.92) for quintile 4; and 0.87 (95% CI, 0.78-0.96) for quintile 5, with quintile 1 as the reference category (P = .01 for trend). For cause-specific mortality, this association with plant protein intake was evident for cardiovascular disease (CVD)–related mortality (HRs, 0.84 [95% CI, 0.73-0.96] to 0.70 [95% CI, 0.59-0.83]; P = .002 for trend). Isocaloric substitution of 3% energy from plant prot
Continue reading at
jamanetwork.com>>
HOW TO PARTICIPATE
We need your help deciding if this article is biased, fake, or gold! Here's some things you can do:
Finish reading the article at the original source above
Vote on the article in the ratings box (requires login)
Go to the comments section below and discuss the truth of this article with others
Connect this story with others by submitting more articles to the section or storylines shown below
Share this story on your social media to get more accurate and unbiased results about its truth and bias.
Thanks! You're the best!
1692 articles submitted, 0 comments, 1869 user score with a lean of Center and a credibility of Good